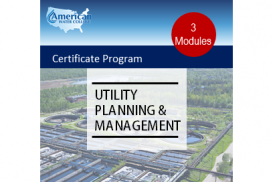 Certificate Programs
Utility Planning & Management Payment Plan
Payment Plan:  
$499 first installment followed by five monthly payments of $199.  
This program provides you with a study of planning and management skills required of utility supervisors and managers. Course material consists of video lectures, lesson quizzes, and lesson projects.
The Utility Planning & Management Certificate Program includes 3 online modules.  Students will receive a certificate upon completing each module as well as an overall certificate after completing all 3 modules.  This program can be combined with the Utility Supervision & Leadership Program to receive a certificate in Effective Utility Management from California State University, Fresno.
This certificate program is made up of the following 3 classes:
Basic Utility Planning & Management
Intermediate Utility Planning & Management
Advanced Utility Planning & Management
Your final certificate will be issued after a full payment is received by American Water College
Today, the water and wastewater industry is more complex than ever before. As our industry changes, there is a strong need for effective leadership. Topics Covered: The Regulatory Process Utility Management Competencies Utility Strategic Planning Basics The Continuous Improvement Process Utility Accounting Utility Money Management The Budgeting Process Setting Utility Rates

This second module covers intermediate level topics relating to the effective management of water and wastewater utilities. Topics Covered: Operations Management Maintenance Management Privatization Capital Improvement Management Construction Design Process Management Construction Process Management Leveraging Information Technology

This third module on effective utility management shows you how to use the Balanced Scorecard approach to utility management. Topics Covered: Introduction: A Balanced Scorecard Training and Communication Planning Developing Your Mission, Values and Vision Mapping Out a Strategy Developing Performance Measures Creating Organizational Alignment Tracking and Reporting Results Sustaining Success